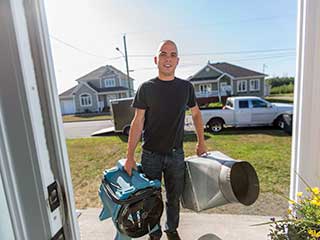 What Is An Air Duct Specialist?
A technician who has experience with air ducts probably seems like a no-brainer answer, but there's also more to it than that. Aside from being able to service those, they can also take care of vents, the ducts and vents of your dryer, repairs and replacements, and even test the quality of your home's air. So, why might you need to contact one for help? Here are a few typical reasons!
You Have Noisy Ducts

Loud noises coming through the walls whenever your AC or heating is running isn't normal and is an indication it's time to contact a professional. It usually means that there's been some sort of malfunction or damage to the air duct, and so air running through it isn't as smooth as it's supposed to be. These sounds can be rattling, loud rushing noises, or even banging noises depending on the issue. A specialist will be able to investigate and find the source in no time to get it repaired!

Noticing A Foul Odor

A bad smell coming from your vents when the air is running could be a sign of several different issues, depending on what the smell is exactly. If it's a mildew scent, then there may be mold growing in your ducts thanks to moisture getting inside. A stark, sharp odor may be the result of rodents inside of it, as it may be their waste or even a cadaver depending on if they got trapped. Musty smells can sometimes indicate there's a break in the duct that's allowing in air from closed off parts of the house. In any case, it's certainly time to get an expert!

Breathing Related Troubles

Poor air quality in the home can lead to all sorts of issues, from severe allergy symptoms even while you should be safe indoors or breathing issues for children and the elderly. Bad air can be particularly harmful to anyone who already has a breathing condition, so It's important to pay attention to whether these problems seem to be worsening and call a specialist to check the air quality if so.